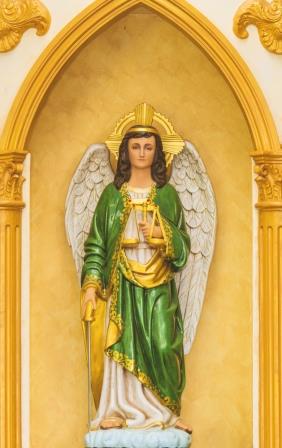 Its all in a name…
Uriel's name translates as 'Fire of God', or 'The Light of the Divine'. He is often depicted in purple carrying some sort of torch or flame, symbolising his ability to guide us to peace and a higher spiritual understanding. As with many angels, they are known with slightly different interpretations of their name, in this case – Urian, Urjan and Uryan.
You will see from the picture accompanying this article, that sometimes Uriel is shown with scales, this is thought to reflect his role as 'God's Divine Justice', holding heavenly scales, that literally weigh our lives on Earth.
One last name for Uriel, is that of Archangel of Salvation, so given for he is the angel to call upon during natural disasters. He is the Archangel that most closely works with Earth, and is involved in healing the planet. It was Uriel that warned Noah of the Great Flood.
Uriel's Gifts
Uriel teaches us about the path of salvation – how to lessen feelings of guilt and anger in our lives, to let our hearts be purer. Our judgement can become clearer when we are not so emotional.
He is associated with forgiveness, emotional healing, resolutions, resolver of arguments and fresh starts.
Uriel specialises in achieving tranquillity and a sense of peace, he teaches us to let go of irritations and a sense of restlessness. To try and see the part that we play in the wider world, rather than getting wrapped up on a day-to-day basis on things that are not that important.
Seeking Uriel's Guidance
It is often said that it is better to give than to receive, and this is a perfect metaphor for Uriel's belief systems. You must be open, and willing to give both to those close to you as well as the wider community in order to receive Uriel's best advice.
Seek answers from him when you need solutions for a difficult question, or support in resolving a conflict. Uriel will help you to hone in what you are really feeling.
Think of Uriel's flame as being able to burn away all of your stuck emotions, whilst the light can guide you to the wisdom you seek!