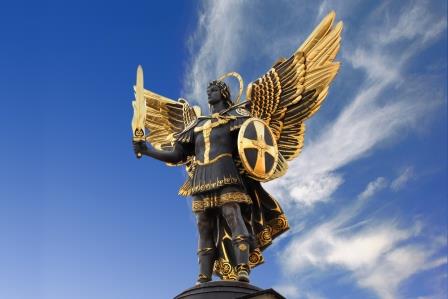 Archangels are the highest-ranking angels and feature in many religions. In some religions, you may see Archangel Michael referred to as Mikhail.
The name Michael means Who is Like God. This interpretation is not literal. Instead, it should be considered a rhetorical question meaning, no one is like God and that Michael represents a symbol of humility before God. 
Chief Archangel
Archangel Michael defeated angel Lucifer after a mighty war in heaven; Lucifer was cut down to earth where he was then known as the fallen angel – Satan. This demonstration of courage; leads many people to believe that Michael was Chief Archangel and head of Virtues. Virtues are where angels help humans demonstrate courage, especially under conditions of adversity.
Archangel Michael's Sword & Shield
Michael has a sword (possibly made from a sapphire blue flame) and shield. The shield and sword have two different meanings: the shield represents protection, and the sword is a symbol for helping us cut away things that are no longer needed.
Michael can protect us both physically and mentally by guiding us in our lives. He can also help us to understand our life purpose and be called upon when we lack commitment, dedication or motivation when we most need it.
Support & Guidance
Many people turn to angels in times of need and usually to one angel in particular. Archangel Michael is always there to provide support and assistance. Call upon Michael when you have questions about your life direction. Or when you need strength to carry on.
For people who are visited by him unexpectedly, it may mean that they require some assistance in their lives. If this occurs, you may feel hot and even see blue flashes or purple circling around you. Perhaps strength or encouragement towards a new goal is required, or cleansing and protection in a time of need. Archangel Michael's sword is there to give us a nudge in the right direction.
Angelic Presence
The presence of Archangel Michael can help you to find the people in your life that can aid, serve and guide you through trying times – these may be friends, family members, colleagues or even people you have yet to meet. Michael can help you with the difficult task of asking for and then accepting support.