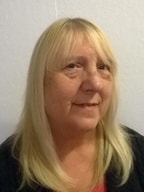 Fran feels privileged and blessed that her guides have chosen to work with her.
Fran is a clairvoyant medium who sees, hears and senses Spirit around her. She began seeing Spirit when she was just four years old. This came as no surprise to anyone as there were mediums and psychics on both sides of her family. Fran continued to have psychic and medium experiences throughout her adult life. So, she decided to study the subject more closely, developing her skills over the years.
Spiritual Development
Development for Fran started with studying healing, she then became a spiritual healer and eventually a Reiki Master. Now, she runs meditation and mediumship development groups for those who wish to train to work with Spirit. Fran has sat in and run circles for thirty years; motivated by giving others the opportunity of developing skills of their own.
Fran has been a platform medium for over twenty years, taking services in spiritualist Churches and Centres. She has been involved with a local spiritualist Church for many years and has been the President for the last twenty-five!
Divine Services
Some time ago, Fran completed a three-year course to become a Trance Medium, which enables her to deliver her spiritual addresses in trance directly from her guides when taking Divine Services.
On a more personal note, Fran has been a strict vegetarian for almost forty years and has a great love of the animal kingdom and their welfare. She has worked with dogs in her grooming business for nearly thirty years. Fran feels that the love of an animal is unconditional and therefore is a form of healing in itself.
Fran feels very blessed and grateful that Spirit allows her to work with them and gives thanks to them every day. Why not give Fran a call, and let her support you on your journey?