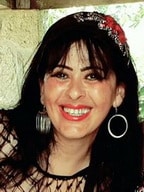 Have a reading with Ellie and sense the spiritual energy flowing.
Ellie lives in the mountains in Cyprus and draws her energy from both heaven and Earth. She is a Psychic, Clairvoyant and Medium. Ellie believes you look at the world and universe through an inner-eye. This lets her immediately tune into the soul of the person on the end of the line.
Remote Viewing is a speciality of Ellie's, she has the ability to work with whomever you are thinking about. You literally don't have to breathe a word! You sit back, relax and allow Ellie to transmit into your soul. She has the ability to tell you things that will allow you to make sense of certain things that are going on in your life at that time.
Ellie also has the ability to study your soul on an in-depth spiritual level. She uses this skill to find out the purpose of your life. What you are supposed to be doing and not be doing!
It may be that Ellie also has to delve into and find out about your previous lives. Which assist her in finding out areas of unfinished business for you, that may be causing blocks to you moving forward.
An experienced member of the team, Ellie directs you to the right path of life. The minute you start talking to her, you will feel her empathic energy and you will feel her psychic abilities. As a medium of tremendous natural ability, she can quickly tune into the energy and aura of anyone and offer amazing spiritual guidance and understanding.
Why not call Ellie and let her tune into your energy and aura?